The application is now available – fill out the form below to get started!
For questions about permits and about installing grease interceptors, contact City Utilities Development Services at (260) 427-1161. For questions about grease interceptor inspections, please contact City Utilities Industrial Pretreatment at (260) 427-1271.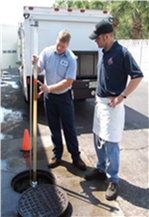 Innovative Collaboration for Sustainable Restaurants
The City Utilities Grease Cooperative (CUGC) is a program in which City Utilities establishes pricing and services on behalf of member Food Service Establishments that voluntarily enroll in the Cooperative as an alternative to managing the cleaning and maintenance scheduling of their grease interceptors.
Participation in the cooperative results in better management of fats, oils, and grease (FOG) in Fort Wayne's food service establishments through partnership, innovation, and cost savings.
Ensure high quality grease interceptor cleaning service.
Protect customers' dining experience.
Eliminate odors and backups caused by FOG blockages.
Prevent business disruptions caused by grease interceptor malfunction.
Minimize enforcement actions and fines for excess FOG release to sewer lines.
Use a waste product as a sustainable energy source.
Protect the public and the environment from sewage backup and overflow.
Why Join the Grease Co-op?
Compliance: Avoid fines that can be issued for FOG discharge.
No Surprises: Know your system is working well and in compliance.
Customer Experience: Odors and backups detract from your business.
Convenience: Membership takes away the work of scheduling and monitoring your grease cleaning service.
Quality: City Utilities ensures waste haulers adhere to high standards of cleaning and will proactively help you keep your system performing well.
Voluntary: Withdraw at any time for any reason!
Lower Rates: Waste FOG is used to power the Water Pollution Control Plant; saving energy can keep rates low.
Environment and Public Health: FOG causes harmful sewer overflows.
Cooperative Innovation: Local restaurants work together with City Utilities to contribute to a circular economy that benefits everyone.
A Sustainable Solution
Members of the Grease Co-op are doing more than managing their plumbing needs. They are also a critical part of the City's long-term solution to solving larger environmental and public health concerns.
Waste FOG will be used to power our Water Pollution Control Plant.
Keeping FOG out of sewer lines keeps our environment and water cleaner, while reducing costs to clean them out.
Energy efficiency and reduced need for sewer line maintenance mean lower rates!